"Remember that all music, in general, is a succession of rainbows." Pablo Casals

Biography

Helen Neilson is an active freelance performer on cello and double bass and is a teacher of cello based in London. She much enjoys playing with a variety of orchestras and playing chamber music. She holds prizes in string quartet playing from both the Royal College of Music and Trinity College of Music. As a chamber musician and soloist, Helen has appeared at a number of festivals around the UK and abroad, including Festival Casals, the Huddersfield Contemporary Music Festival, Lake District Summer Music Festival, Perth Festival of the Arts and St Endellion Festival, as well as at a number of London venues including St James' Piccadilly, Leighton House and the National Gallery. She has performed around the world, including projects in Mumbai, China, Catalonia, Spain, France and South America.
After completing her Masters studies, she presented her own recital series, entitled "Play, Architecture, Emotion" in Scotland and London showcasing works by composers including Elliott Carter, Busoni and Ronald Stevenson. She now participates in chamber music recitals and performances regularly, at home and further afield. A highlight was performing Schubert's "Gesang der Geister unter den Wassern" at St Endellion Festival with 9 male singers including Mark Padmore and Roderick Williams in 2014 on double bass. She has also enjoyed exploring contemporary repertoire and collaborations with composers. The album, "Secret Doors", recorded on the music-chamber label with the work of young British contemporary composer, Daniel Hewson was released in November 2007. This was invited after Helen's performance of his piece, "Secret Doors" for cello and piano, commissioned for her MMus final recital. Helen and Daniel more recently gave a series of double bass and piano recitals in 2015 exploring repertoire for the instrument beyond the orchestra! Helen likes playing in cello ensembles and cello orchestras, a particularly memorable concert having been in 1999 with Rostropovich at the Brandenburg Gate in Berlin with 167 cellists from around the world, celebrating ten years of the Fall of the Berlin Wall. She now particularly enjoys playing in groups with her own students!
Helen has performed with a variety of diverse ensembles crossing into various cultures including a performance at the Dartington Festival with sitar player Ravi Shankar; a project at the Purcell Room on London's South Bank with the New Voices Collective, a new contemporary music theatre influenced composer showcase project originating from New York; projects with Indian classical musicians including Rhabishika, the Tagore Academy; and in string quartets supporting IGospel at the Royal Festival Hall and Royal Albert Hall.

Helen has always loved the orchestral repertoire and playing in orchestras has been an important part of her life for many years! As a teenager she played as principal cello of the National Youth String Orchestra of Scotland and Perth Youth Orchestra; then later she played as principal cello of the Royal College of Music Chamber and Symphony Orchestras. She has much enjoyed being part of festival and touring orchestras including the St Endellion Festival Orchestra; Opera de Bauge Orchestra and the Symphony Orchestra of India. Helen was a founder member of St Paul's Sinfonia and has continued to play regularly with them over more than ten years now performing a broad range of standard and contemporary repertoire, including many premieres. She performed in their tenth anniversary concert at the Queen Elizabeth Hall in April 2015 on cello. Since 2016 she has regularly played double bass with them, including principal at their 2018 Cadogan Hall concert. Helen also performed as soloist with St Paul's Sinfonia, playing the Elgar Cello Concerto. She currently freelances regularly with a variety of orchestras in and around London and abroad on both cello and double bass.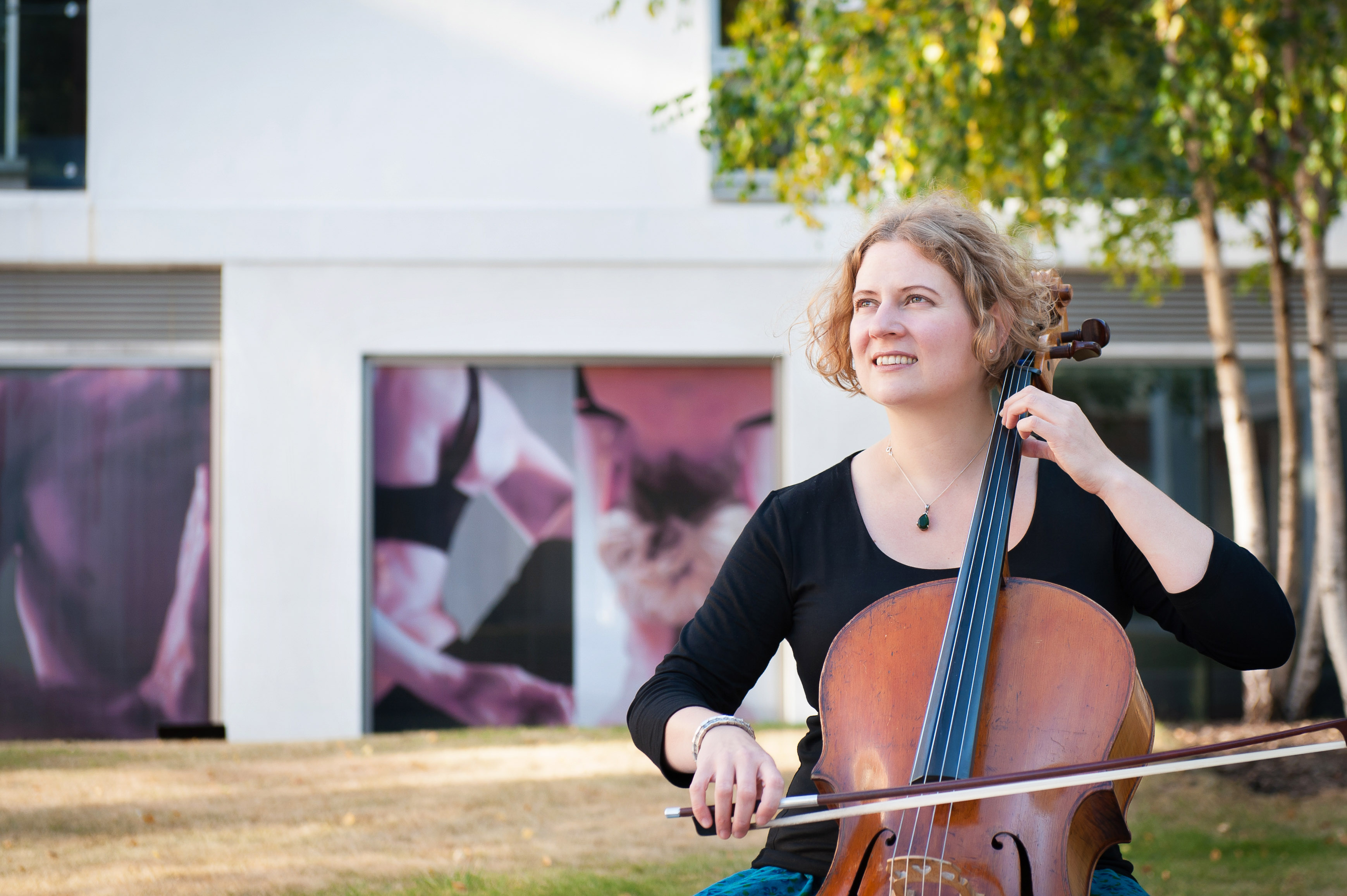 Photo by Irena Pechon
Her earlier studies included doing a BSc (Hons) Music and Mathematics at the University of Leeds where she studied cello with Anna Shuttleworth, and PGDip Adv in Orchestral Studies at the Royal College of Music. She later completed an MMus in Performance Studies at Trinity College of Music where she studied with Naomi Butterworth. She holds string quartet prizes from both the Royal College of Music and Trinity College of Music. Her RCM studies were generously supported by the Countess of Munster Musical Trust.
Helen grew up in a musical family in Perth, Scotland where she frequently heard her mother, a singer, and her father, a pianist, making music at home and on stages around Scotland and beyond. She regularly heard them preparing for and giving duo recitals and later doing concerts and recordings with the choirs they trained together, whom they toured all over the world with.
Away from the instruments, Helen loves travelling, swimming (outdoors and in the sea when possible!), yoga, cycling, spending time with friends and good conversation.
| | |
| --- | --- |
| | |
| | Elgar Cello Concerto with St Paul's Sinfonia |