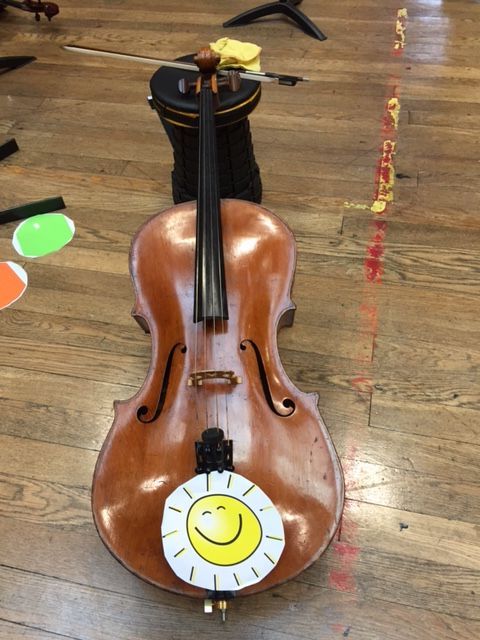 Approach and influences
"Where love is deep, much can be accomplished." Shinichi Suzuki

Helen has developed a reputation as a successful teacher of cellists at a variety of ages and levels. She particularly enjoys working with children in the earliest stages of learning and setting them up with a good basis for relating to the cello on physical and musical levels. She enjoys the journey of working with students and their families on their path from the earliest stages to more advanced levels and very much enjoys seeing her teenagers develop and flourish. Her research into the use of the body in performance, examining perspectives from dance and Eastern spirituality as well as recent music cognition and perception literature feeds into her teaching, as well as an excellent knowledge of string pedagogical literature. She is interested in how the additional element of group interaction with other musicians feeds in to the overall learning process and contributes to a healthy developmental path for students, and has a particular interest in the added value of cello specific groups for developing cellists at all stages.

She hopes to pass on the knowledge from her studies with teachers including Anna Shuttleworth, Naomi Butterworth and Jerome Pernoo. She has been influenced by her observations of many of the world's top cellists and teachers in masterclass situations, including Yo-Yo Ma, Slava Rostropovich, Bernard Greenhouse, Steven Doane, Frans Helmerson, Anner Bylsma, Karine Georgian, Ralph Kirshbaum and Colin Carr. Inspirations on recent teacher training courses have included Pam Devenport, Carey Beth-Hockett and Eulalia Subira. Helen and her students learned a lot from observing and participating in sessions on the October half term Pro Corda Cello Course with wonderful cellists and teachers including Joely Koos, Zoe Martlew and Alexander Baillie. She is qualified as a Suzuki teacher to level 4 and tends to combine ideas and repertoire from the Suzuki method in the context of a wider approach in her teaching, tailoring programmes to fit the needs of each individual student.
"Laban believed in the education of the person through dance, not education in dance." (Hodgson and Preston-Dunlop, 1990)
This is an attitude to which I find strong resonances in many aspects of my approach to this work. I am interested in the whole human journey experienced together through this close work, not only in purely the cellistic outcome of our work together.

SW4 practice:
The SW4 studio involves a number of students having lessons in Clapham, with lessons lasting for either 30, 45 minutes or 60 minutes, appropriate to the age and level of the individual student. Venue is easily accessible from areas including Clapham, Brixton, Dulwich, Battersea and Streatham, and surrounding areas. Lessons usually take place midweek after school. Students participate in regular performance classes, and also participate in regular group lessons and holiday courses. Many also take Trinity Guildhall or Associated Board examinations when appropriate, usually from g5 upwards. Younger students do Suzuki events and graduations. The class has an excellent record of examination results and performance accolades. Students have been awarded music scholarships, places in National Children's Orchestra and have taken part in international summer schools. Students participate in larger performance classes at least twice a year, often with visiting teachers. Over the past couple of years they have enjoyed classes with visiting teachers including Ashley Stafford, Tessa Oakley, David Kenedy, Selma Gokcen, Alison Moncrieff-Kelly, Anita Strevens and William Bruce. She is interested in how the overall learning process works and in creating environments which allow students to develop to their full potential.

Helen is a holder of public liability insurance and is fully DBS checked. Please contact her directly for information about current availability and waiting lists. When a vacancy arises, priority will be given to young beginners aged 4 - 6. Parents and prospective new students need to attend regular observation sessions of group lessons at Bayswater Suzuki Group and to develop some understanding of the requirements prior to committing to a place in the class. Parents are required to sit in on lessons for the first several years as they will assist with practice at home by learning how to be the home teacher.
**Now taking applications to start observing lessons with a view to starting in September 2021 and beyond. Children aged between 4-6 years old will be given priority for enrolment to begin lessons. Prospective new students will be invited to observe lessons prior to being offered a place to start lessons.**
**Lessons are taking place according to current government guidelines. During national lockdowns we are working fully online. When lockdown easing allows, we are working with strict Covid safety protocols in place in the home studio and other working environments.**
Latymer Upper School (Sept 2008 - present)

Helen is Head of Strings at Latymer Upper School in Hammersmith, having been teaching there since 2008. Her thriving cello class ranges from year three through to students in the Sixth Form, and she is also involved in coaching chamber music and leading groups. A particular favourite activity is working with the prep cello group! She is enjoying building the chamber music programme and regularly works with string quartets involving many of the music scholars. The school held their first ever Strings Day in 2012 which has now become a regular fixture in the calendar. This school has a vibrant and active music department with numerous ensemble and performance opportunities for students. Highlights for advanced students have included massed schools performances of Mahler's Symphony no. 8 at the Royal Festival Hall in which Helen played principal cello in March 2013 and Richard Strauss: Eine Alpensinfonie in March 2015.
Creating and engaging with events which inspire and motivate students in addition to the regular week to week lessons is a particular highlight.

St Pauls Girls' School (Sept 2005 - present)

Helen has a diverse class of 11-18 year old students at a range of levels from beginner to Grade 8 + at St Paul's Girls' School. She enjoys meeting the interesting range of characters and helping them to develop on their individual paths over time. They have individual lessons, and most participate in a range of wider musical activities at school and outside. Many choose to take Trinity Guildhall or Associated Board grade examinations but this is not an essential part of the path. The school has a well known history of musical excellence, and provides a high calibre range of activities for girls to engage with. Helen has both cello and double bass students at SPGS, and she enjoys being involved in the superb school concerts too!
The Aldgate School (formerly The John Cass Foundation Primary School) (Apr 2013 - present)

Helen enjoys working as part of the team on the thriving full class strings programmes here. All students in years 3, 4, 5 and 6 learn a string instrument as part of a full class programme as part of thier school curriculum. Materials used include the popular "Vamoosh" series and Sheila Nelson favourites. Lessons are dynamic and fully engaging group experiences. Students enjoy an interesting mix of string activities and general musicianship training, and participate in projects with external organisations in addition to their regular core programme. We recently added double basses, so now our students now learn violin, cello and double bass as a whole class, with small group back up lessons on a weekly basis. The fact that all learning takes place as part of a group throughout the four years of learning on the programme leads to interesting use of the group dynamic as a learning tool and motivator.

This programme was one of the original "flagships" of the historic Tower Hamlets String Programmes set up by Sheila Nelson around the 1960s, utilising pedagogical ideas based upon the research and ideas of Paul Rolland. The body of string teaching literature which has grown out of these programmes forms the foundation of a huge proportion of the beginner string teaching literature used in many environments around the world. My colleagues on this programme were Sheila Nelson students as small children, and so we continue to use much of her approach. We have been delighted to recently welcome back to the team Thomas Gregory, who developed much of his now internationally renowned "Vamoosh" materials here in this school, and which form a core part of the materials for our programme. They always receive a huge wave of enthusiasm from our children in this environment on a weekly basis!
Bayswater Suzuki Group (Sept 2016 - present)

Helen leads the cello group sessions for the Bayswater Suzuki Group and is involved in their chamber music and orchestra sessions . Sessions run on 6 Saturday mornings a term. She is happy to work alongside Jillian Leddra, the programme leader, who has a reputation of excellence in her results with her many violin students. She enjoys using her knowledge of the Suzuki repertoire and method to create fun and engaging group sessions for Suzuki cello students working from book 1 to book 8+ levels and their parents. Students in early years also do musicianship classes. Older students also do chamber music and orchestras encompassing a challenging range of high level musical literature. There are termly concerts and one large annual concert in November at St Peter's Church, Notting Hill.Students also participate in wider LSG events including the Cadogan Hall Annual Strings Concert and many attend courses including Bryanstone.

Other teaching activities:

Helen is on the teaching staff at the Royal College of Music Junior Department and Morley College Centre for Young Musicans as a deputy teacher and enjoys working with those students on an occasional basis. She also enjoys helping out other Suzuki groups and the South London Cello Groups from time to time.
Workshop leading is a particular favourite activity and she has enjoyed leading large group classes on Cello Days at the Royal Academy of Music; other events for the London Cello Society including Vamoosh workshops; school string events and on Suzuki workshops.

She also very much enjoys coaching and giving masterclasses on summer schools which have included Bryanstone International Summer School, CelloFest, Pro Corda and the Bayswater Chamber Music Course.
Helen is involved with regular training of other cello teachers and works closely with the London Music Masters Programme as a mentor and trainer of their cello teachers. She also reviews new teaching materials and repertoire and writes on a regular basis for Music Teacher Magazine.
In 2018, Helen gave her first lecture at the University of Cambridge on the Practical Application of the Singing Voice in Instrumental Teaching.

London Cello Society: Cello Club
Helen took over the directorship of the Cello Club, the student division of the London Cello Society in early 2011 and held this post until June 2013. Cello Club produces two magazines a year for members and runs two events each year, including the annual Cello Day at the Royal Academy of Music in April with a fantastic line up of some of the top teachers in the country. Past events have also included "Ponticello", an improvisation workshop and "Vamoosh!" for young cellists. She is now on the Advisory Council to the Cello Society.

Full details of forthcoming events and how to join are available on the London Cello Society website:
Student cello events on the London Cello Society website
Previous teaching activities
From 2001 to 2008, Helen taught at Southwark Centre for Young Musicians which is a vibrant musical training ground for young instrumentalists in South East London. They participate in instrumental lessons, string ensemble, and a variety of other lessons including African drumming and gospel choir. The centre encourages all students to become confident in improvisation and creative musicianship skills right from the start. STAX CYM recently won an award as the best independent music centre in the UK. Helen's students from here have been awarded places to continue their studies at the Guildhall and Royal College of Music junior departments.
In summer 2003, Helen spent a period of time teaching at the Mathieson Music School in Kolkata. This is a charitable foundation for young people from deprived backgrounds, which provides them with accomodation, food, clean water, health provision and a comprehensive education as well as music tuition in strings, singing, tabla and indian dance. Helen taught individual string lessons, large string ensembles and general musicianship classes, and wrote some compositions (whilst sitting by the water pump!) specifically for performance by her students there.

From 2005-2008, Helen taught individual lessons and large year one and year two string groups at Newton Preparatory School. The methodology used in the group sessions and lessons with the young children was influenced by the thinking of Shinichi Suzuki. This programme helped to develop young string players with sound musical and technical foundations right from the start.